Best Veteran and Reserve Best Veteran In Show
BEST VETERAN IN SHOW (LEFT)
CROSS, Mr & Mrs D & J. Ch Elbereth Marja
B 29/10/06, br Mrs T Jackson, Int Ch Lecibsin Hapmi— Elbereth Satu
RESERVE BEST VETERAN IN SHOW (RIGHT)
ALLISON, Mrs N J, Lux Ch Oberitz Oivallus
D 30/5/04, br Exh, Fin Ch Chelville Tapio—Elbereth Noki With Oberitz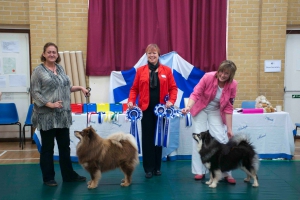 Best In Show and Reserve Best In Show
BEST IN SHOW (LEFT)
ROBINSON, Messrs T & O & Mrs – Oberitz Rumpali
D 17/11/10, br Mrs N Allison, Fin Ch Chelville Tapio—Oberitz Marimekko.
RESERVE BEST IN SHOW and BEST OPPOSITE SEX IN SHOW (RIGHT)
THOMAS, Mr & Mrs B Elbereth Pelinainen
B 21/1/14, br Mrs T Jackson, Ch Elbereth Matkamies Sh.CM—Shacal Reilu Peli (imp)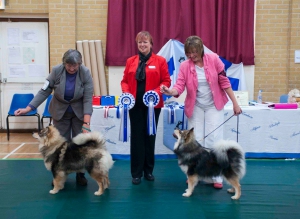 Best Puppy In Show and Reserve Best Puppy In Show
BEST PUPPY IN SHOW (LEFT)
COOPER, Mr, Mrs & Miss S Pavoskas Aly Arttu
D 10/4/15, br Exh, Tositouhun Fernando—Marymead Moulin Rouge for Pavoskas JW Sh.CM.
RESERVE BEST PUPPY IN SHOW (RIGHT)
JACKSON, Mr P. Tilkkuturkin Hallantuoma to Elbereth (Imp Fin)
B 4/11/14, br Mr M Jokinen, Multi Ch Elbereth Matkamies—Fin Ch Tilkkuturkin Bunahilkka.
Photography by Mark Treasure